Singapore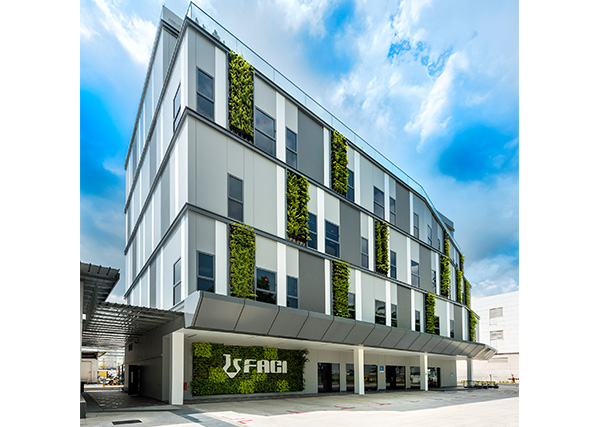 The design brief for Faci Asia Pacific's corporate office in Singapore was derived from an intent to accommodate an expanding business and to cater for a venue for client collaborations.
The company manufactures non-toxic metal stearates and derivatives of fatty acids. Its main raw material Is palm oil. Established in Singapore on Jurong island since 2000, it has expanded its output and range of products.
The building had to be emblematic of the company's business and strategy, with a strong underlying desire to promote their sustainable corporate image.
Our inspiration was derived from the organic origins of Faci's products. The main façade would reflect this background with an integrated vertical green wall design juxtaposed with the façade glazing.
Incorporating a pattern of vertical greenery with the openable glazing, the façade was designed to be a distinctive feature- representative of a corporate philosophy of ecologically sustainable manufacturing and technology.
From design to construction implementation, the building utilized methods that incorporated green practices. These include the use of sustainable products such as low-VOC paint, green label ceiling boards, water proofing, raised floor system, timber door veneers, dry wall partitions, silicon sealants and adhesives.
The final outcome was an efficient and sustainable commercial building that maximized its small footprint for its purpose.
The project won a BCA Green mark Gold Plus award in 2018 and the Singapore Good Design Mark Award in 2019.