Singapore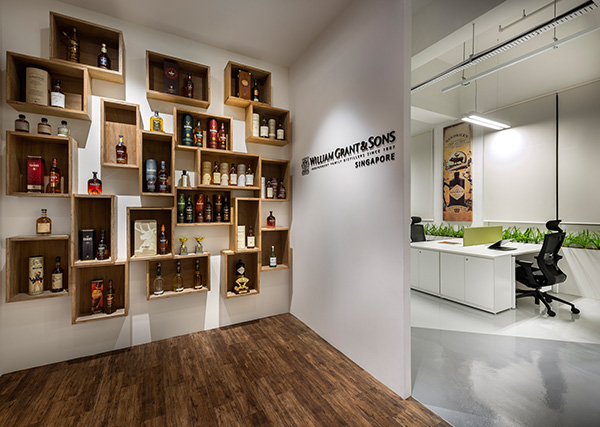 Our design was to create an open plan office with work stations close to the external glazing. The working areas would be illuminated with natural light; highlighted by greenery in side planters beside the desks.
A central circulation spine permeates the office and visually connects the elongated office floor plate. Open workstations lined the window areas whilst enclosed meeting rooms were designated within interior spaces.
The meeting rooms were inspired by the brands of spirits that the company is famous for – the board room would be highlighted with a custom designed chandelier of Balvenie bottles; the creative meeting room would be illustrated with quirky graphics from Hendrick's gin; the Sailor jerry room would have retro-inspired sofas and memorabilia.
Break out areas were introduced in between office workstations that encouraged brain-storming sessions. These areas were characterized with as creative environments often styled with casual seating and furniture,
The office areas were designed as an agile working environment, allowing for flexibility and mobility, Workers travel often and collaborations across their offices were facilitated by these hot-desking arrangements.